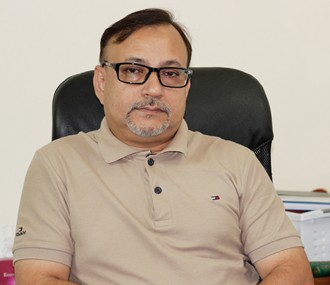 Md. Kamrul Ahsan is an entrepreneur with more than 23 years of experience in BPO (business process outsourcing) in both back office and front office supports for all major IT MNCs in Bangladesh.
He has also worked for a good number of clients in recruiting, training, and running sales teams, managing expos, conferences and events, marketing communications, business development, advertising & PR.
He graduated from the University of Chittagong in English Literature and did his MBA from IBA, DU in Bangladesh. Kamrul started his career in IT sales & marketing in 1995 and established a marketing communications agency, INPACE in December 1997. INPACE is now a leading BPO and marketing communications agency in Bangladesh.
Md. Rahat Khan is CEO & Managing Director of INPACE. He is a business graduate from IBA, University of Dhaka with 20+ years of experience in the fields of Business Development, Product Development, Marketing, Customer Service & Operations Management. Before starting his entrepreneurial journey in 2018, he worked for 2 MNCs and 2 Local organizations in Telecom, Software & Marketing sectors.
His greatest strength is his passion for success achieved through operational efficiency and motivational leadership. He is a champion strategist, innovation enthusiast, and growth hacker. He is a self-motivated person making difficult assignments easy and fun for the team, but at the same time, keeps them focused on the target.
Professionally, he is driving a marketing agency, a cloud innovation company, a health-tech start up and an insurance-tech company in addition to being a part of Reinforce Lab team. He is passionate about assisting companies solving problems in affordable way, create brands and reaching new heights.
Personally, he is a technology enthusiast and is always eager to learn new things. He loves to travel, read fiction and spend time with his wife and two lovely children in his leisure.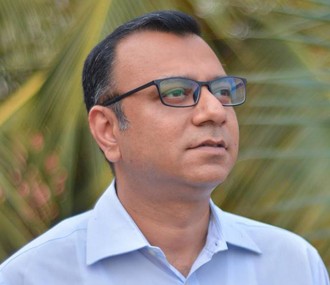 The history of Inpace dates back to December, 1997 when Inpace Communications was formed to satisfy the ever-increasing demand for Computer Graphics & DTP, Direct Marketing, Fulfillment Services, IT Enabled Services, Management Consultancy, Market Communication, Event Management and PR Management services. The primary goal was to explore the market for computer education, graphic design & printing management, corporate promotion, logistics support service and event management. Inpace Management Services Limited was registered on 1st August, 2004 to diversify its business and serve the customers in a more organized and professional way. Over the last 16 years Inpace was making substantial progress in achieving its primary goals. While doing this, the company gradually expanded its business into Fulfillment Services, Lead Generation, Direct Marketing and IT Enabled Services for most of the renowned multinational IT companies present in Bangladesh. At present, Inpace has got its name as a professional house of fulfillment and outsourcing activities for major MNCs and local corporations.
Clarify Your Brand Strategy
We Know the Value of Creating a Defined Brand Strategy.It's the entire experience your prospects and customers have with your company, product or service. Because your brand is more than your logo, name or slogan.
Know Your Targeted Audience
We understand the importance of identifying your targeted audience. Your target audience is a very important part of your brand, who are most likely to buy your products or services. And targeting the right audience means better results in your activities.
Resourceful Tools
We know the importance of resourceful tools. Architects, designers and homeowners have to use several resourceful tools. By adopting the viewpoint of the owners, we focus our attention on the complete process of project management for architects, designers and homeowners and provide them with all the necessary resourceful tools.
Marketing Efforts Should Be Trackable
If you aren't tracking, you are not marketing. Tracking your marketing efforts is very important. You should know exactly how your business generates leads. Tracking will help you in evaluating your marketing efforts and where you are spending your marketing budget. And this is where we focus the most.
Utilizes Multiple Platforms
The key to marketing success today is to build marketing funnel that utilizes multiple platforms. If you want your business sales process to run as efficiently as possible, you absolutely must get your marketing funnel that utilizes multiple platforms. And our marketing team knows exactly how to build an effective marketing funnel for your business that utilizes multiple platforms.
Develop Relevant Buyers Journeys And Conversion Points
Strategy is the shooting match. What makes a successful buyers journey, why an effective conversion strategy is essential and how to develop one for your business is very important to know. And as a marketer, our team understand the importance of developing relevant buyers' journeys and conversion points.